What happens when 14,000 thirsty beer industry people descend upon one city? In a nutshell, that's what the annual Craft Brewers Conference is, really - an INVASION. Brewers, vendors, and business folks all gather once about a week each year in a different city to learn, network, buy/sell stuff, and show off their beards. Everybody is not quite at work but not quite on vacation, either, so the atmosphere is really fun. We had a fabulous time at our first CBC: highlights include learning insider info during seminars, meeting tons of like-minded beer people, seeing our Iowa Brewers Guild buddies, getting to know beautiful Nashville, and eating southern food like it's our new job.
Molly's Two Cents
Walking around a normal city during CBC is surreal. Everyone sort of looks the same, like they're wearing a uniform (khaki shorts, beer t-shirt, baseball cap, beard, name tag) and you feel like you're living in a parallel universe or sci-fi movie. The convention center itself lends to an otherworldly vibe too because Music City Center would remind you of one of those Battlestar Galactica spaceships that can hold half the known human population and is so big you never quite know where you are. It covers 16 acres in downtown Nashville. You earn your beers at the end of the day if you keep walking from one end to the other all afternoon looking for the right session room or trying to spot "beerlebrities." (Beerlebrities is a term Jake uses for famous beer people, many of whom attended this CBC. The founder guy from Stone sat two tables down from us at a bar one night. He carries his beer not with one hand in front of him, elbow bent, but by the rim of the glass, arm straight at his side, kinda like the glass is a leash and there's an invisible dog is behind him. Sometimes it's the little things you remember from a big day, right?)
I went to lots of great sessions, including one on branding breweries through the taproom experience, creating social media content on the cheap, menu design, management/leadership, motivating employees, strategies for creating unique events, etc. I think I learned the most though by just chatting to all the industry people I met. We all have stories about what's worked in our breweries than can help another brewery a few states down the road. Beer people in general are very generous with their ideas and experiences and don't hesitate to say things like, "I have a great idea you should steal."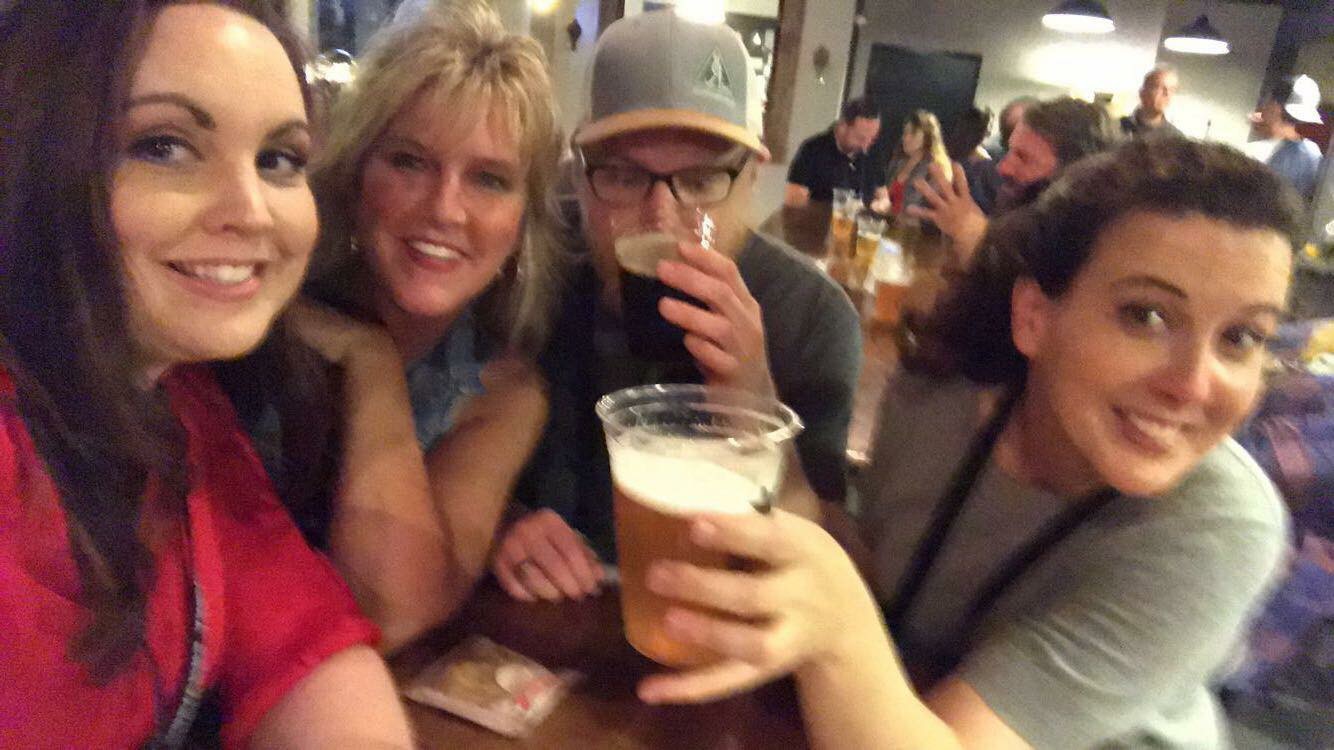 The Iowa representation at the conference was very strong! We had a great gathering at Jackalope Brewing on Wednesday night, which was a blast. Typically, when we see other Iowa beer people, we're usually all working - it's at a beer fest or at a brewery one of us owns and we're on duty and in a hurry and covered in beer and holding change for someone we need to get to the other end of the bar. At CBC though, you can just relax and ask your Iowa beer buddy what cute things their dog did this week. That is so rare and it's awesome. We also ran into Natascha Myer at the party, who is currently living in Nashville working on her dream of being a singer/songwriter and plays at Fat Hill on May 24. Her brother Dave is a brewer at SingleSpeed. Small world!
Speaking of SingleSpeed, big congrats to them and Iowa Brewing for making Iowa proud during the CBC awards Thursday night. Nice job, folks! There is so much cool stuff happening with beer in Iowa and craft beer in general…I think if I took one thing away from the conference that's it -- that there's a great future for us in this business and great people to learn alongside.